The Victorian Clydesdale Horse Society
clydesdalesvic@gmail.com
Victorian Clydesdale Horse Society
Society News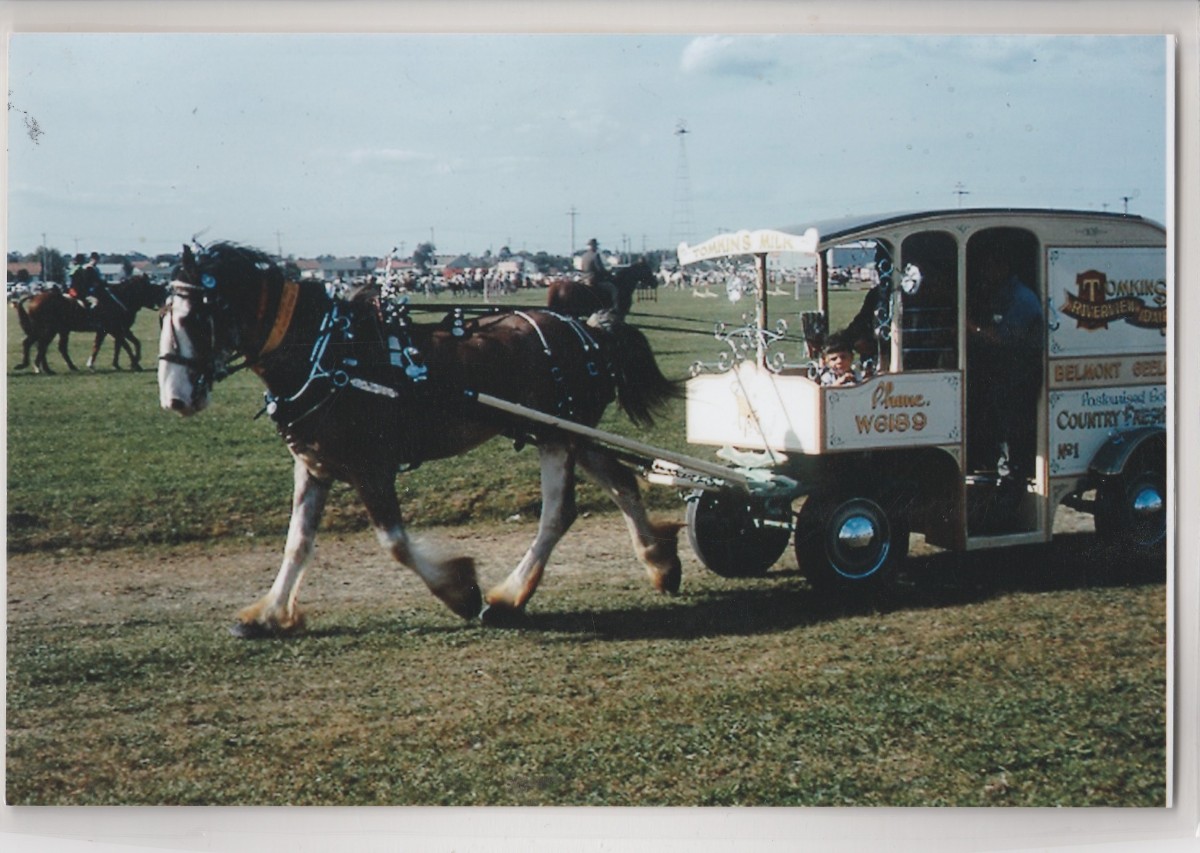 A Step Back In Time To Clydesdale Horse Drawn Milk Deliveries.

It all started in 1936, there were approximately forty small dairies in the Geelong region. In a particular dairy in Barrabool Road in Belmont (Geelong) Cows were milked by hand and the proceeds of this milk was placed into milk cans. It was delivered door to door by horse and cart on a one tap can cart. If required for emergency or missed delivery orders a bicycle was on hand. Deliveries usually in pint or half pint measures of milk and cream. Weekend orders for some customers would include cream being a special treat as this was very important for most. "Just ask a certain lady on the corner of Francis St. & Spring St. in Belmont who regularly did baking most weekends specifically apple pie." As we all know apple pie and cream are a match made in heaven. Unfortunately these small extras on orders were sometimes forgotten by the milky & a special trip had to be made for delivery.

Around 1939-1940 milk was beginning to be delivered in bottles, which had to be hand washed. My mother at this time was heavily pregnant with myself & had difficulty reaching the water taps, but persevered. In 1941 I was born.
By 1943 pasteurisation of milk was voluntary and in 1950 it became compulsory. This forced a number of small dairies to either purchase milk from us or sell their dairies off. Our family did acquire several of these, about a dozen. In many cases workers from these excising dairies came to work at Riverview. At this time our Riverview dairy moved premises to Roslyn Road in Belmont to bottle & pasteurise.
In 1950 with the expansion of the business new carts were ordered from a Melbourne company they were all identical sign written and pinstriped a dozen in total all fitted with canopies. These carts in the beginning had kerosene lanterns placed on the back for safety. Twelve horses worked every night over several milk runs throughout Geelong. We had thirty horses all up young & older with a mixture of Clydesdales & Part Breeds. The nicest horse of them in my opinion was a full Clydesdale called Bess. My fathers horse was definitely a one man horse as soon as it would hear a front gate click it would move onto the next drop off so you had to be very quick on your feet. None of the horses would do a different run than normal as this was too confusing for them.It was too time consuming and required an extra person to deliver. Each horse worked for three months and was then rested for three months. The extra horses were kept down at the Belmont Common that runs along the Barwon River & is known to flood in the winter, or at my brother's farm in Marshall, which supplied the straw for the stables. On occasion the gate at the common was opened and the horses would find their own way back to the dairy. For any new younger horses we had a horse trainer Fred Somerville. When it was time for young horses to begin working two men would do the milk run one to drive the horse and one to deliver the milk firstly in the daylight hours.
My father passed away in 1955 this being my early child hood and I can remember a group of men coming into our house asking my mother questions. Learning later that these people were from the masonic lodge my father had belonged to. Back in those days women were not usually proprietors of businesses as it was nearly impossible to get credit or loans from banks. In some way whether it be a guarantor for money or support base the lodge made it possible for her to continue on and run the business.
My brother ran the factory side of the operation as he didn't want to do deliveries and by this time we had a delivery truck. The truck was used for the very hilly areas and deliveries required for out of the way of normal runs also for emergencies. The Corner of Nth Valley Rd & Arcana Rd was treacherous being gravel roads with no gutters and in wintertime was prone for getting bogged. On one particular occasion not one but two milk delivery trucks and the night man got bogged.
The Year was 1957, I was sixteen years old, and yes I started on my first milk run. Being a milky meant I was like everyone else required to begin work at twelve midnight. "This not being not very good for one's social life." First job was to feed my horse a tin of chaff this was mostly to hopefully prevent the horse from wandering off in search of grass or to get into the front gardens of residents. My mother became aware of an occasion when a gate was not shut properly and a lady's lawn got trampled and her plants were eaten. This was balanced out by the gardeners collecting up any left behind waste products." Horse poo" for their gardens. They didn't complain. Second job was to check ledger for any delivery extras than normal, collect my money bag, load the cart including lights & harness the horse. Then it was time to go.
Along the way especially on Saturday nights I would see the local constabulary. It was not uncommon to be heading down collecting bottle money and someone in the still of night would call out "gidday" which at times did frighten me. On the odd occasion the milk money had been pinched, each bottle was worth ten pence.
One morning whilst doing my run at the corner of Jacob St all I can remember is there were men doing road works and next thing I know the shafts of my milk lorry ended up thru the garage door of a resident, the hand brake was digging me in the back and I had a horses backside up against my chest. For the life of me I cannot remember what happened. This type of incident did involve if a resident had a phone my mother would be phoned for help. On other occasions my mother would try and work out roughly what street the milk run would be up to. A taxi with a message would be sent to me that I was needed to help out another milky. I can remember this being to help on such times when a cart would get stuck on the outer edge of concrete drainage pipe culverts. "Did the horse get its tin of feed before leaving for run?" or a cart that had been under low lying branches and ripped all the canvas off & of course a flat tyre.
Flat tyres aren't they great? The clever person that I am I knew how to solve the problem. We would supply each delivery milk cart with its own jack and spare tyre assuming that each milky could change his own tyre. This was wonderful in theory. All it took whilst when the cart was jacked up was for the horse to lean forward and bingo the cart had fallen off the jack.
On two occasions my mother received phone calls from the Geelong Hospital in the early hours of the morning. The voice on the end of the line said to my mother that "we have one of your drivers at the hospital, we have patched him up and he is fine"! "The issue we have is we don't know what to do with the horse & cart, it is parked outside the front door"! One of the most serious situations I did encounter was to arrive at an emergency at the top of the Fyansford quarry. A policeman with gun in hand was about to put down Toby the carthorse down. Toby had bolted with a younger driver and his child on board. The horse was hanging over the edge of the quarry with about a thirty-foot drop below. I came to an agreement with the officer that if he was badly injured if we were able to free him then he could go ahead. After using a knife to cut the harness the horse was freed miraculously he ended up on his side rolled over, stood up, and had a shake. The only injury to Toby was soreness and a flap of skin hanging. The run was finished by truck.
It was amazing how many small problems with customers I would encounter. Like when people would complain about short measures in the milk bottles. This was a rather frustrating occurrence, as magpies would peck a small hole in the foil top and drink the milk. It appears that magpies wake up a lot earlier than the residents. These bottles had to be replaced.
As far as driver compliance upon arrival back at the dairy drivers were responsible for unloading empties, clean up any spills, wash their cart tend to the horse and harness. My mother warned all drivers that if a horse was knocked around it would be instant dismissal. Some drivers were unable to keep up with their horse and would apply the brake whilst doing their round. This causing the horse to end up with sore shoulders.
Originally the horses would be taken to Murphy's the blacksmith to have shoes put on or changed. In later years this would change and the farrier would call on us.
Regarding harness repairs and purchases they were taken to Mr Dukes who was a very good saddler. He appeared to be regularly quite drunk at 9.00am in the morning, so you had to try and catch him on a good day.
Sometimes a milky would sleep in and Keith Boyle seemed to be a serial offender start time was usually twelve midnight. As many people didn't have phones, yes you guest it I would have to go to his residence and wake him up, as we had no spare drivers.
At the peak of milk deliveries we employed twenty-six people in the factory towards the end just five.
A milk bar opened up near the Palais dance hall in Geelong, which required ten gallons of day old milk for their shakes, apparently better for the volume of froth.Wages for milk rounds were paid at six hours and forty minutes six days a week, for helping out in emergencies more pay was given. Young employees were paid the same wage as senior milkys so long as they performed their duties at the same standard. Funds for the wages were collected from the bank every Thursday at 2.30 and placed in a gladstone bag with the initials GRT on the bag. On arrival back at the dairy my mother would make up the pays and envelope them ready for collection. In later years I then performed this task.
During the late fifties and early sixties we were exhibitors at the Royal Melbourne show, Geelong, Ballarat & Colac shows. There was a lot of competition with twelve or more in a class. Before attending these events we still had to complete our milk runs before hand.

We also attended Geelong Gala Parade, which meandered through the city streets to raise money for the hospital. Unfortunately on one particular occasion we took "Pancho". The school band started up, children were screaming with excitement and it was just all too much for him. He tried to take off and lifted the cart about eight inches off the ground. Thank goodness we always had two people aboard for safety. On his milk round he was no trouble.
By the middle seventies milk deliveries were becoming less popular and too dangerous for the horses to deliver and ultimately we sold out to polar dairies, everything went in the sale except for our show harness.
After selling I continued to work buying a newspaper delivery contract from Geelong to Warrnambool, the Herald & Age papers. From then I worked at the Geelong and Cressy Farm Supplies working my way up to be the store manager and finally I drove passenger buses delivering passengers, cakes and numerous other assorted items between Geelong, Apollo Bay and back thru Lorne with a Six am Start.

My name is Graeme Tomkin. I am currently retired "almost" I still have a great love for horses and enjoy refurbishing horse drawn vehicles. You may have seen me with my vehicles at events such as the Werribee Heavy Horse Festival or Lake Goldsmith.